MAYHEM 2017
Greetings dancers, artists, patrons and scoli-warriors!
Is it really MAYHEM time again already?!.... Yup!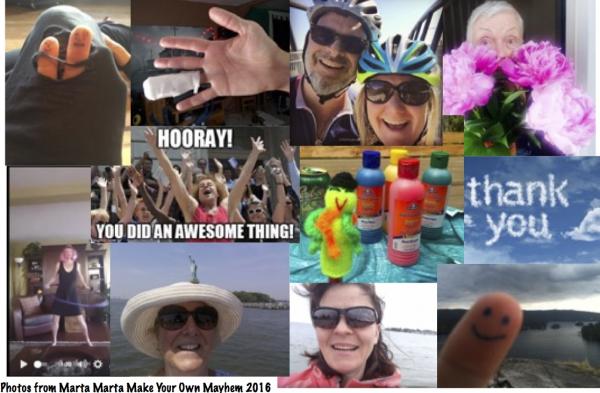 Every May, Marta Marta MAYHEM, our annual fundraising event, has entertained our community far and wide through performances, parties and other pranks.
This year, we are keeping it simple. We want to simply say THANK YOU for your past support of Marta Marta Productions and the Twisted Outreach Project for Backcare and Scoliosis (MMP•TOPS). Thanks to your help, the company continues to grow in new and exciting directions. As a multi-disciplinary non-profit dedicated to both dance-based performing arts and body work, our creative approach to movement in all its forms is what bridges our communities.
Driven by the passion and vision of our Artistic Director Martha Carter, highlights of our upcoming year include a NEW performance work in process by Carter for 2018; a new MMP initiative to offer the dance community subsidized studio space through our Artist in Residency program; ongoing educational workshops, classes and retreats in Vancouver and beyond; and our continued groundbreaking work to develop a unique scoliosis support website.
And now we will simply ask, would you please consider supporting us this year?
Your donation will help both MMP and TOPS fulfill their mandate to bring quality programs to arts audiences, movement students and the general public alike. All donations will receive a 100% tax donation receipt.
When you give...
$20, someone with back care needs can have access to scoliosis-focused movement workshops;

$60, an up-and-coming performing artist can receive a week of subsidized access to studio space;

$100, a teen learning to manage their scoliosis can receive a free Yoga for Scoliosis consultation;

$500, w

e can invite and host movement professionals to lead engaging workshops and retreats.
Thank you in advance– every bit helps.
Cheques may be made payable to MARTA MARTA PRODUCTIONS
PO BOX 21647, 1424 Commercial Drive, V5L 3X0
See more about the Twisted Outreach Project.
Check out some of the hilarious and ridiculous contributions we received from last year's MAYHEM!
Ingrid Beattie breaks some World Records!
Clancy & two creature friends make a little mayhem.
Su-Feh stirs up TROUBLE!
Some throwback Mayhem from Robert Greenberg.
Kathryn tends to some quiet mayhem on Salt Spring Island.
Isabel brings the Mayhem to NYC!
Eva proves there's time for Mayhem– even on a hike!
Kathryn gives us some special Victoria Day Mayhem
Team Mayhem Takes us out!