Triple Heat Dance & Marta Marta Productions Present in Courtenay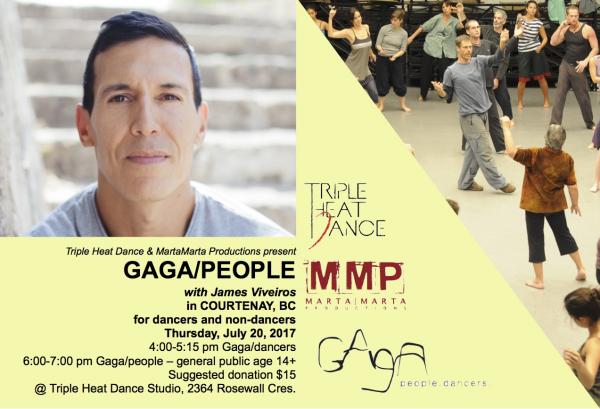 Triple Heat Dance & MartaMarta Productions present
GAGA/PEOPLE
with James Viveiros
in COURTENAY, BC
for dancers and non-dancers
Thursday, July 20, 2017
4:00-5:15 pm Gaga/dancers
6:00-7:00 pm Gaga/people – general public age 14+
Suggested donation $15
@ Triple Heat Dance Studio, 2364 Rosewall Cres.
About Gaga
Gaga is a movement language for gaining knowledge and self-awareness through your body.
Gaga is based in the healing, dynamic, ever-changing power of movement.
Gaga increases flexibility, stamina, and agility while lightening the senses and imagination.
Gaga raises awareness of physical weaknesses and awakens numb areas.
Gaga is great physical training for professional dancers and general public alike. Gaga is good for all ages and body types.
In each class, participants are guided through simple movement exercises where they can discover new ease and freedom in their bodies as they move through the space.
ABOUT JAMES
For over 20 years, James has danced on stages around the world, performing with acclaimed choreographers and directors, most notably Montréal's Compagnie Marie Chouinard. In 2016, James lived in Tel Aviv Israel where he trained to become a certified GAGA teacher with founder Ohad Naharin and the Batsheva Dance Company. This Summer, James is traveling across Canada to teach this unique and new movement training system with workshops in Regina Sask, Courtenay BC, Vancouver BC and Montréal Qc. James is also in the process of creating his first solo, 'MELT (a prefix for a prayer)' premiering in September 2017 at the Festival Quartiers Danses in Montréal.
For more information about Gaga:
http://gagapeople.com/english/ohad-naharin
For more info about Gaga/People in Courtenay, please contact mmp.tops@gmail.com or 604-897-2037.